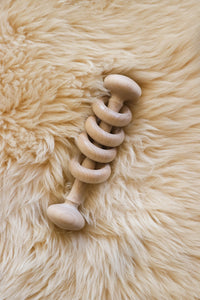 Description
MY VERY OWN® Rattle is still the only product of its kind in the world. It is made from a single piece of American Rock Maple. Unlike any other wooden rattle, it is a single piece at all times, not cut apart and re-glued. It is a teether, manipulative clutching toy, and gentle noisemaker all in one, with a magically soothing feel in the hand for babies (and adults, too).
There is no finish of any kind applied to the wood, just our unique sanding and polishing process, so there is never a concern about what baby is getting in their mouth beside pure, natural, non-toxic northern Rock Maple hardwood. Observation over all these years has shown unfinished wood to be an infant's preferred teething material. And wood has been found to be less hospitable to growth of germs than other surfaces.
With all the fuss about plastic teethers, phthalates, etc., it is the obvious choice for a safe and natural infant toy. With its qualities of design, craftsmanship and unique infant play and teething values, this is the rattle that the family keeps for the next generation.
Details
CPSIA/CPSC Compliant!
Comes in a cotton bag (no plastic!) and has never been touched by the human hand
Made in Vermont, USA of a single piece of American Rock Maple
No glues or finishes. The shine comes from being sanded and polished and will diminish slightly as baby teethes on it. 
Provides low stimulation cause and effect for pure exploration
Cleaning instructions included